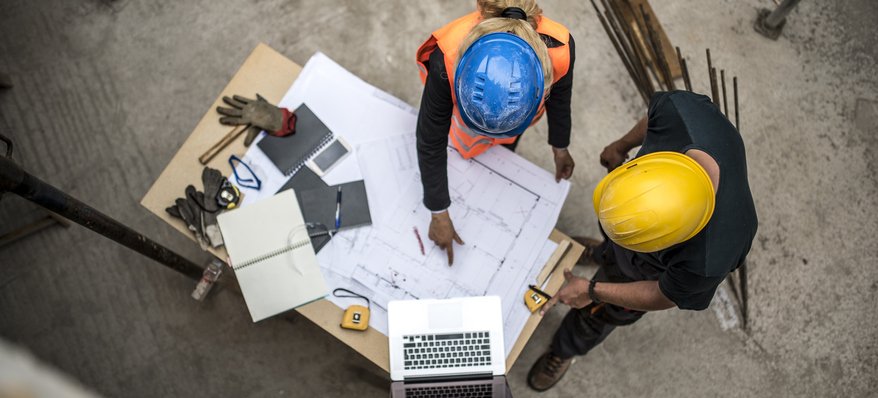 Obtaining a Professional Engineer (PE) and/or a Professional Surveyor (PS) license ensures that the Engineer will adhere to the highest quality standards and ethics in their profession. Having a license increases credibility and confidence with clients. Whether working in private industry, government, consulting or leading your own business, this credential will enable the Engineer to approve documents and plans with authority and the standard of licensure. In some organizations or types of work, this license may be required.
The following provides an overview of the process to obtain this license. If you have additional questions, please contact your advisor.
What is the Professional Engineer License?
The Professional Engineer (PE) License is a certification for engineers that is given by individual states. The National Council of Examiners for Engineers and Surveyors (NCEES) administers the exams that are part of the requirements to earn the license. To earn this designation, engineers often:
have an EAC/ABET accredited bachelor's degree
pass a Fundamentals of Engineering (FE) exam
complete four years of qualified work experience in their field. This work usually has to be supervised by a licensed Professional Engineer. (Note: a graduate degree in engineering may reduce the experience requirement.)
pass a Principles and Practice of Engineering (PE) exam 
Requirements vary by state, and a few states have a FE waiver option.  While these are usually the minimum requirements, you should check here to confirm your state's requirements.
Why is a PE License Required?
Any engineer who is planning on working in consulting or for a government agency should obtain the license. A PE License is required to sign off on engineering plans that will be sent to public authorities for approval or to a private client. Many companies are increasingly encouraging their engineers to obtain this license. 
What is the first step to earning a PE License?
The first step is passing the Fundamentals of Engineering (FE) exam. It is a 110-question exam that must be completed within six hours, which includes a scheduled break. This exam is offered in seven areas: Chemical, Civil, Electrical and Computer, Environmental, Industrial and Systems, Mechanical and Other Disciplines. Study guides can be found here, under the heading "Exam specifications." 
When should I take the FE exam?
This exam is designed for students close to graduation or for recent graduates of an EAC/ABET accredited bachelor's degree program. It can be taken any time during senior year or following graduation. Taking it during senior year, or shortly after graduating, may increase your odds of passing, since everything is fresh in your memory, and will likely not require as much study time. 
How do I take the FE exam in Ohio?
Although NCEES is a national organization, each state has different application requirements for taking the FE exam. To take the test in Ohio, you first need to register to take the FE exam directly through NCEES by creating an account. The FE exam is computer-based and must be taken at a Pearson VUE test center. The closest center to Case Western Reserve University is in Beachwood, OH. Appointments must be made at the test center when you register for the exam. You can find a full list of testing center locations here. 
What does the FE exam cost?
There is a $175 exam fee paid to NCEES. Ohio does not charge any additional application fees.
How should I prepare for the FE exam?
NCEES has free study resources and study guides. Notes and tests from previous engineering classes can be helpful. You will be provided with a NCEES FE Reference Handbook during the exam, but all other notes will be prohibited. This reference book can be downloaded for free from the NCEES site if you'd like to look at it before the exam. There are also practice exams available for purchase on the NCEES website.
What steps do I need to take after passing the FE exam?
After taking and passing the FE exam and graduating from an EAC/ABET accredited 4-year university with an EAC/ABET accredited engineering degree, you must have four qualifying years of work experience in your field and then take the PE exam. The PE exam is also offered through NCEES. This exam is currently offered in April and October each year, with registration deadlines typically more than three months ahead of the test date. The PE exam currently costs between $350-$375.
Who is in charge of the certifications?
The NCEES administers both the FE exam and the PE exam. In Ohio, the board that monitors licensure is the State Board of Registration for Professional Engineers and Surveyors. NCEES designs the exams, but the Professional Engineering License is obtained from the state by applying to the state's respective board before taking the PE exam and then passing it. All states require the minimum requirements listed above; some also require a certain length of residency in the state or a reference from a licensed engineer. Applicants should check their state's requirements well ahead of applying.  If an engineer needs to be licensed in multiple states, they can use a service called NCEES Records, which will make it easier to submit materials for multiple applications. It should be noted that the Professional Engineering License is not a lifetime license; it must be renewed every two years in most states.